BTC Wobbly at $27K After FOMC Meeting, IMX Skyrockets 30% Daily: Market Watch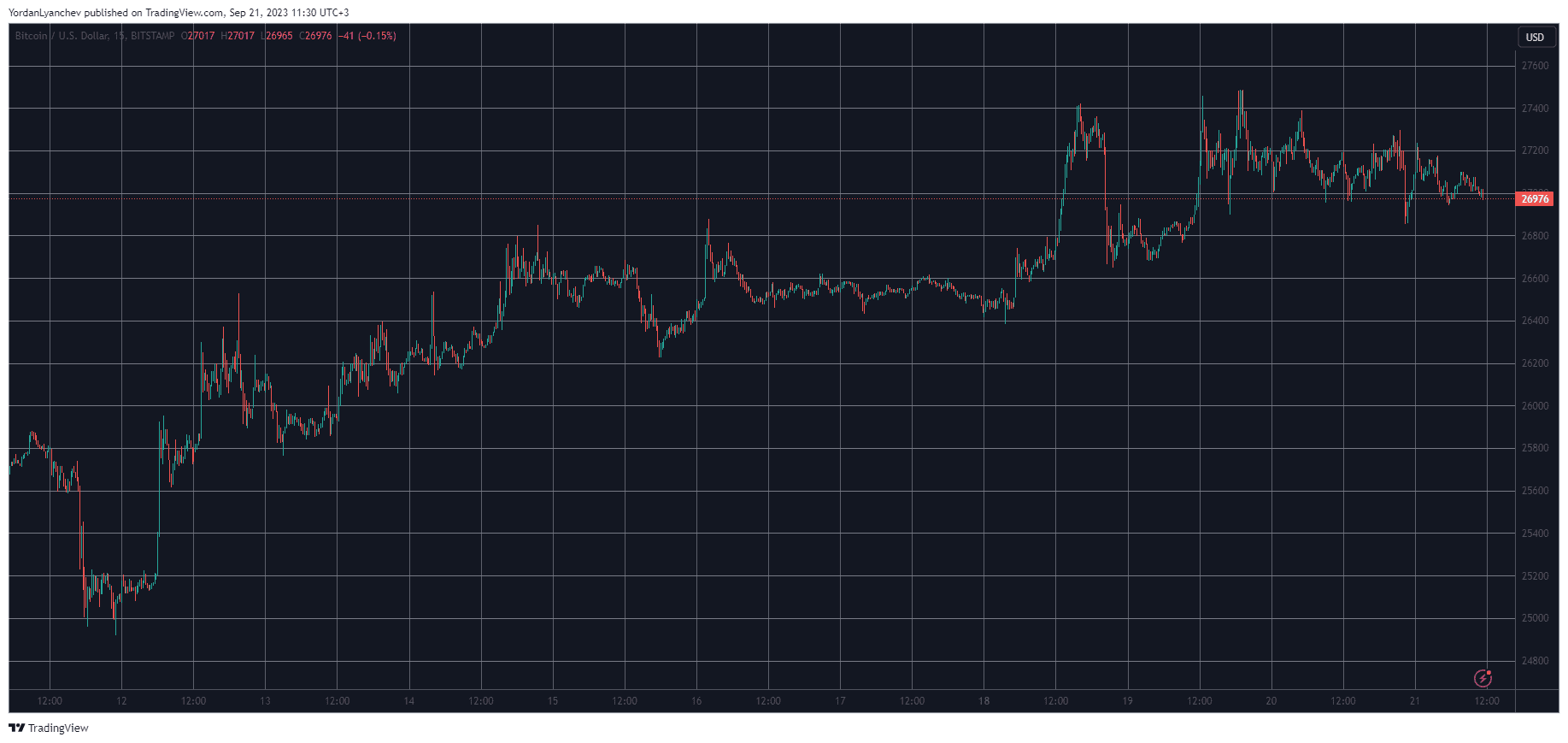 After several consecutive days of charting new local peaks, bitcoin has finally calmed at around $27,000, which is rather surprising given the US Fed's latest meeting that took place yesterday.
Most altcoins are with minor losses today, with Toncoin and Litecoin dropping the most. In the case of the former, the decline is by 6%.
BTC Calms at $27K
The primary cryptocurrency started gaining traction last week after the Monday crash and spiked to above $26,500 by the middle of it. It kept climbing gradually and shot up above $27,000 by Saturday.
It failed to maintain its run during the weekend and retraced to $26,500 by Sunday. However, the bulls stepped up once more at the start of the business week and pushed the asset above $27,000 on several occasions. This culminated in a jump to $27,500 on Tuesday, which became BTC's highest price point in 20 days.
Nevertheless, the asset once again ran out of juice and fell back by about $500. More volatility was expected yesterday when the US Federal Reserve announced a slight change in its monetary policy by not raising the interest rates. That was not the case, though, and bitcoin has remained relatively flat at $27,000.
Its market capitalization has retraced slightly to $525 billion, but its dominance over the alts has risen to 49.3% on CMC.
IMX Steals the Show
Most altcoins are also slightly in the red on a 24-hour scale. Ethereum and Binance Coin have both retraced by just over 1% and trade at $1,620 and $213, respectively. Ripple, Solana, Polkadot, Polygon, and Shiba Inu are with losses of up to 1%.
More declines come from the likes of Cardano, Tron, and Litecoin. Toncoin is today's poorest performer after recording massive weekly gains. TON has retraced by more than 7% and now sits at $2,35.
The total crypto market cap has shed a few billion but still remains above $1.070 trillion on CMC.
The post BTC Wobbly at $27K After FOMC Meeting, IMX Skyrockets 30% Daily: Market Watch appeared first on CryptoPotato.