3 reasons Enjin Coin price surged by over 30% in a single day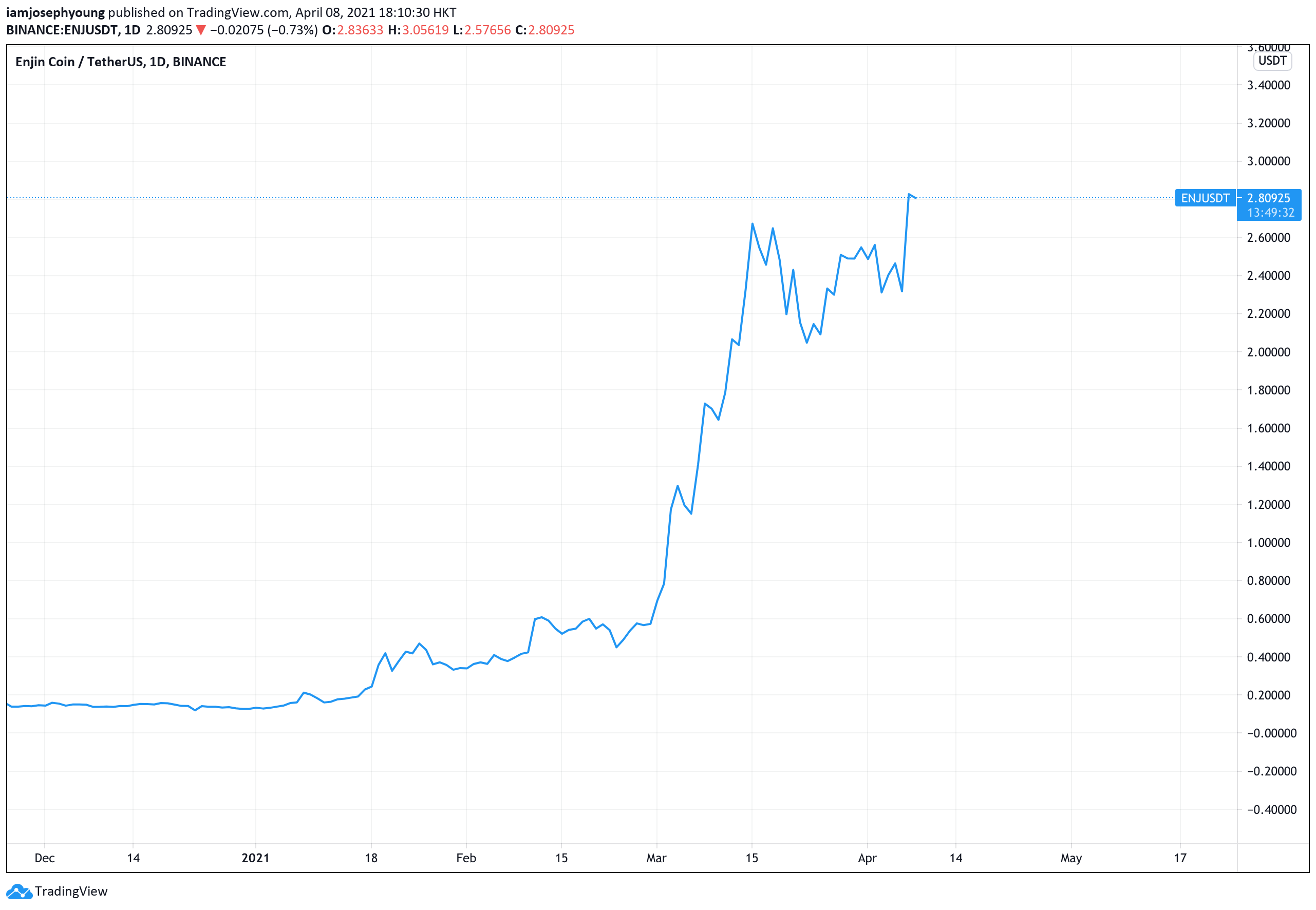 The price of Enjin, the native token of the blockchain gaming and NFT-focused project, has surged by more than 30% in the last 24 hours.
There are three major factors behind ENJ's strong short-term uptrend, namely the Coinbase listing, technical momentum, and the interest around JumpNet.
Coinbase listing intensifies interest in Enji
The price of ENJ has been on a gradual uptrend throughout the past month ever since the project announced the release of Efinity and JumpNet.
ENJ started to see a large rally when Coinbase, the top U.S. exchange, announced it will allow users to trade ENJ, an event that was highlighted in Cointelegraph Markets Pro on April 7.
Additionally, the VORTECS™ score, exclusive to Cointelegraph, flipped green prior to the rally, as seen in the chart above. The VORTECS™ score is an algorithmic comparison of historic and current market conditions derived from a combination of data points including market sentiment, trading volume, recent price movements, and Twitter activity.
On April 8, Coinbase Pro announced:
"Starting immediately, we will begin accepting inbound transfers of 1INCH, ENJ, NKN, OGN to Coinbase Pro. Trading will begin on or after 9AM Pacific Time (PT) Friday April 9, if liquidity conditions are met."
A Coinbase listing typically serves as a major catalyst for alternative cryptocurrencies because it introduces the asset to the U.S. retail market.
The launch of JumpNet and Efinity is crucial
Enjin is also launching two crucial products in the upcoming months: Efinity and JumpNet.
Efinity is a gaming and NFT-focused blockchain that runs on Polkadot. Efinity would be the first blockchain network that is solely optimized for NFTs. Since there is significant hype around NFTs and the sector is rapidly growing, the interest in Efinity is also rising fast.
Peter Mauric, head of public affairs at Parity Technologies, said:
"Minting NFTs on legacy networks is expensive—financially and environmentally. Polkadot has been designed to solve these structural shortcomings, providing a platform for launching the kind of production-grade infrastructure Efinity represents for NFTs: cheaper for creators and cleaner for the climate."
Atop Efinity, Enjin is also releasing JumpNet, which is a second-layer scaling solution for Enjin.
JumpNet allows users to transact using ENJ on gaming platforms with faster and cheaper transactions, which is expected to improve the gaming experience in the Enjin ecosystem.
Mike Abundo, the committee chairman of the Philippines Fintech Association, said:
Good luck to the @Enjin community on the launch of JumpNet! JumpNet enables fast & free transactions for $ENJ & @Enjin game items. That means you could throw your favorite streamer a powerful @Enjin sword right when they need it in battle, then throw them $ENJ when they win.
Technical momentum is accelerating
According to the pseudonymous trader "Rekt Capital," ENJ is on the verge of seeing a "bull flag" structure against Bitcoin following the breakout on April 8.
The trader said:
"Despite the downside volatility, ENJ is still showcasing price-strength confirmation at this level Interesting to see if ENJ forms a Bull Flag around these levels, as price has been moving sideways along this local red support for weeks"
If the price of ENJ holds above the $2.5 support level, the probability of a broader rally would remain high in the near term.