Bitcoin Tops Q1 Results With +103% Gains as Gold Brings up The Rear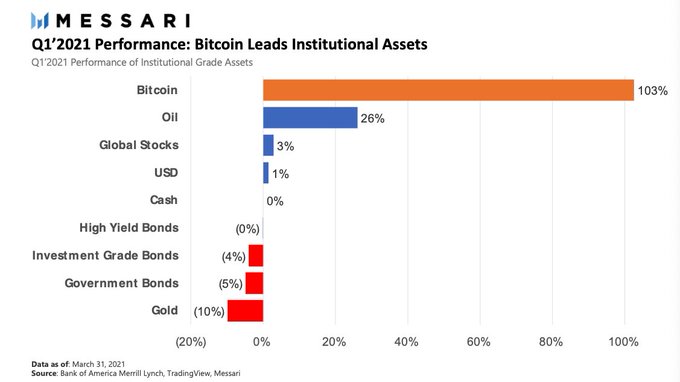 Messari has compiled the performance of institutional-grade assets for Q1 2021, and Bitcoin leads the pack with a 103% gain. Oil takes second place, up +26%. But continuing to underperform is gold, losing 10%, making it the worst-performing last quarter asset.
Source: @usgoose on Twitter.com
Bitcoin Leads The Way
The price of Bitcoin started the year with a daily close of $29.5k. This was off the back of a milestone 2020, particularly Q4 2020, in which the leading cryptocurrency managed to break $20k, signaling the start of the current bull cycle.
Since then, a series of powerful surges established Bitcoin as a serious contender. Making it all the more difficult for both institutions and on-the-fence retail investors to ignore. By the end of last quarter, BTC was priced at $59k.
Source: BTCUSD on TradingView.com
At the same time, gold was continuing to underperform. Since hitting an all-time high of $2,070/oz in August 2020, the shiny metal has fallen into a descending channel.
While it started 2021 well positioned at $1,894/oz, even steeper declines in Q1 saw it hit $1,686/oz twice to establish support at this price.
Both Bitcoin and gold are seen as ways to diversify a portfolio or as a hedge against inflation. But divergent performances over the last quarter have reignited debate over which to hold in these uncertain times.
Given a choice, David Rosenberg, the former Chief Economist, and Strategist for Merrill Lynch Canada and Merrill Lynch in New York, said:
"My vote would be for gold because it has thousands of years of a historical record as a store of value, has one-fifth the volatility of bitcoin, and doesn't face the same competition risk. The day that Queen Elizabeth trades in the five pounds of gold in her crown for crypto is the day I'll shift course."
But others see gold's falling fortunes as a direct result of outflows into Bitcoin. Citigroup analyst Aakash Doshi said while it's difficult to make like-for-like comparisons between the two, data suggests investor flows are going towards Bitcoin and away from gold.
"More interestingly, in the last 19 weeks, gold ETFs and Bitcoin posted net weekly flows and asset under management trends in opposite directions on about a dozen occasions."
$100k BTC Coming?
Bitcoin broke above $60k on Saturday for the first time since mid-March. Today it makes a new all-time high of $62,824, and market sentiment is riding high.
Where will Bitcoin head next?
Despite the controversy surrounding the stock-to-flow model, BNY Mellon referred to it in a new report predicting a $100k Bitcoin by July.
"The stock-to-flow ratio is one of the more interesting valuation concepts and is worth understanding despite its flaws."
Critics argue that the stock-to-flow model takes no account of demand, only supply, when correlating Bitcoin's historical price with scarcity.