Dogecoin is one of the top-performers in Q1 2021 that's looking for further gains
The first three months of the year were quite eventful for the cryptocurrency industry. While the central banks' money printers went "brrr," trust eroded in the global financial system. The exodus of institutional and retail investors from the traditional markets flooded the crypto space as many looked to hedge against inflation.
One of the cryptocurrencies that benefited the most from the global economic turmoil was the meme token Dogecoin.
According to analytics firm Messari, market participants were inspired by the "r/WallStreetBets drama" and created a copycat subreddit dubbed SatoshiStreetBets to pump DOGE. The idea was for this altcoin to mimic GME's price action and provide an opportunity for cryptocurrency enthusiasts to profit massively.
"DOGE was swept into the r/WallStreetBets drama, in which retail investors coordinated a DOGE pump, aided by the meme coins outsized social media presence," reads the report.

The significant spike in buying pressure behind Dogecoin was also fueled by celebrity endorsements, including Elon Musk, Snoop Dogg, Gene Simmons, and Kevin Jonas. As a result, its market value surged by nearly 1,800% within the first 29 days of the year.
As DOGE reached a new all-time high of $0.089, a spike in profit-taking saw the token enter a consolidation phase where it shed 39% of the gains incurred. The meme coin closed March's trading session at a low of $0.054, providing a quarterly return of 1,050%.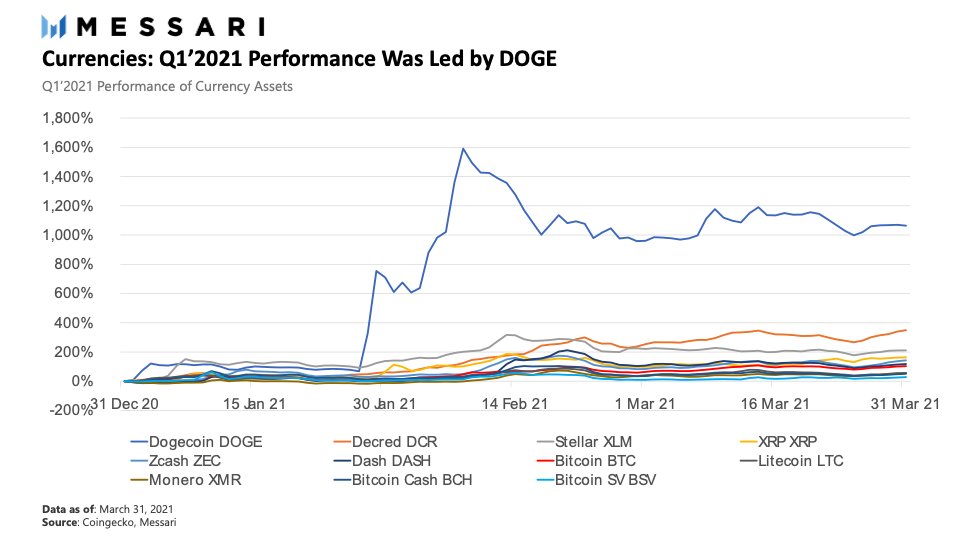 Dogecoin whales are back on the network
Even though many industry leaders interpreted Dogecoin's price action in Q1 2021 as a "pump and dump" scheme, it may have more room to go up.
The number of large DOGE transactions with a value greater than $100,000 has been steadily rising over the past few weeks, indicating whales' presence on the network. Roughly 840 large transactions were recorded on Mar. 29, but now more than 1,600 large transactions are taking place.
Whales have a disproportionate impact on prices because of their enormous holdings and their ability to coordinate buying and selling activity. Historically, when the number of large transactions starts to increase, Dogecoin prices tend to follow.
Now that high net worth individuals are back, DOGE may have the ability to resume its uptrend and make new all-time highs.
Get an
edge

on the cryptoasset market

Access more crypto insights and context in every article as a paid member of CryptoSlate Edge.

On-chain analysis

Price snapshots

More context
Like what you see?
Subscribe for updates.