Ethereum Closing In on $2,800 As ETH 2.0 Deposit Contract Hit New ATH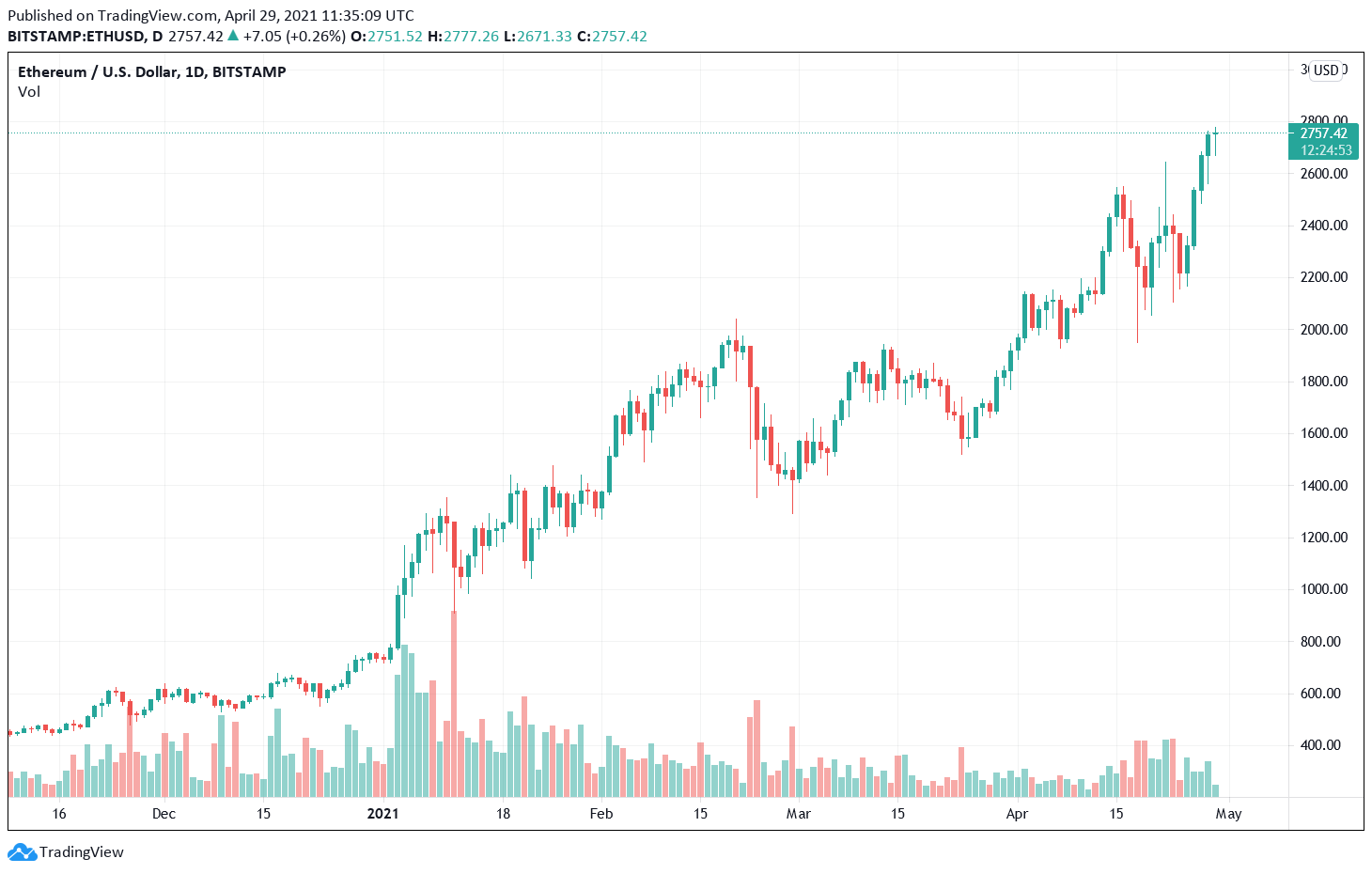 On Thursday, the world's second largest cryptocurrency by market cap, Ethereum surged in an indomitable bull rally. At press time, the said:
"With this increase in popularity, institutional investors are doing their due diligence on the most liquid cryptocurrencies and we expect the pace of adoption across these to ramp up as the opportunity in digital assets becomes more compelling."
Alexis Marinof, the European operations manager at WisdomTree, said that institutional demand for Ethereum has recently increased. In addition, its previous digital assets ETP products were well-received by institutional investors. He went on to say that the cryptocurrency asset class has helped institutions diversify their portfolios.
"By adding ETHW to our range, we now have the products and research capabilities to support institutional investors whether they are considering making their first allocations to digital assets or looking to diversify their exposures," added Marinof.
Since the beginning of 2021, Ethereum has been on a big upswing. ETH has also gained nearly 300 percent year-to-date at its current price. CI Global Asset Management introduced the world's first Ethereum mutual fund to the market earlier this week.
Related article | Ethereum Seems Unstoppable, Here's How ETH Could Extend Rally
ETH 2.0 Deposit Contract Hit New ATH
Ethereum 2.0 was billed as the most ambitious update to the Ethereum network to date, and the hype appears to be bearing fruit. According to a Tweet from Glassnode alerts, the world's second-largest cryptocurrency has upgraded to a new all-time high of $10,935,392,247.93 for its deposit contracts.
? #Ethereum $ETH Total Value in the ETH 2.0 Deposit Contract just reached an ATH of $10,935,392,247.93

View metric:https://t.co/1ezmu1GKcj pic.twitter.com/6uj4P0wwYD

— glassnode alerts (@glassnodealerts) April 28, 2021
The community has embraced the cryptocurrency, particularly since the launch of the Ethereum 2.0 update in November 2020.
The foundation's success began right at the start, with the preparations for its launch. The team behind it had planned to launch it on December 1, 2020, if the deposit contract reached a stake of 524,288 Ethereum coins. It met its target in a matter of hours, collecting over 150,000 ETH deposits in less than 24 hours.
Ethereum has been plagued by high gas fees, and Ethereum 2.0 is being heralded as the solution. Danny Ryan, the Ethereum 2.0 coordinator, said before the launch that the update added a lot of intrinsic value to the system.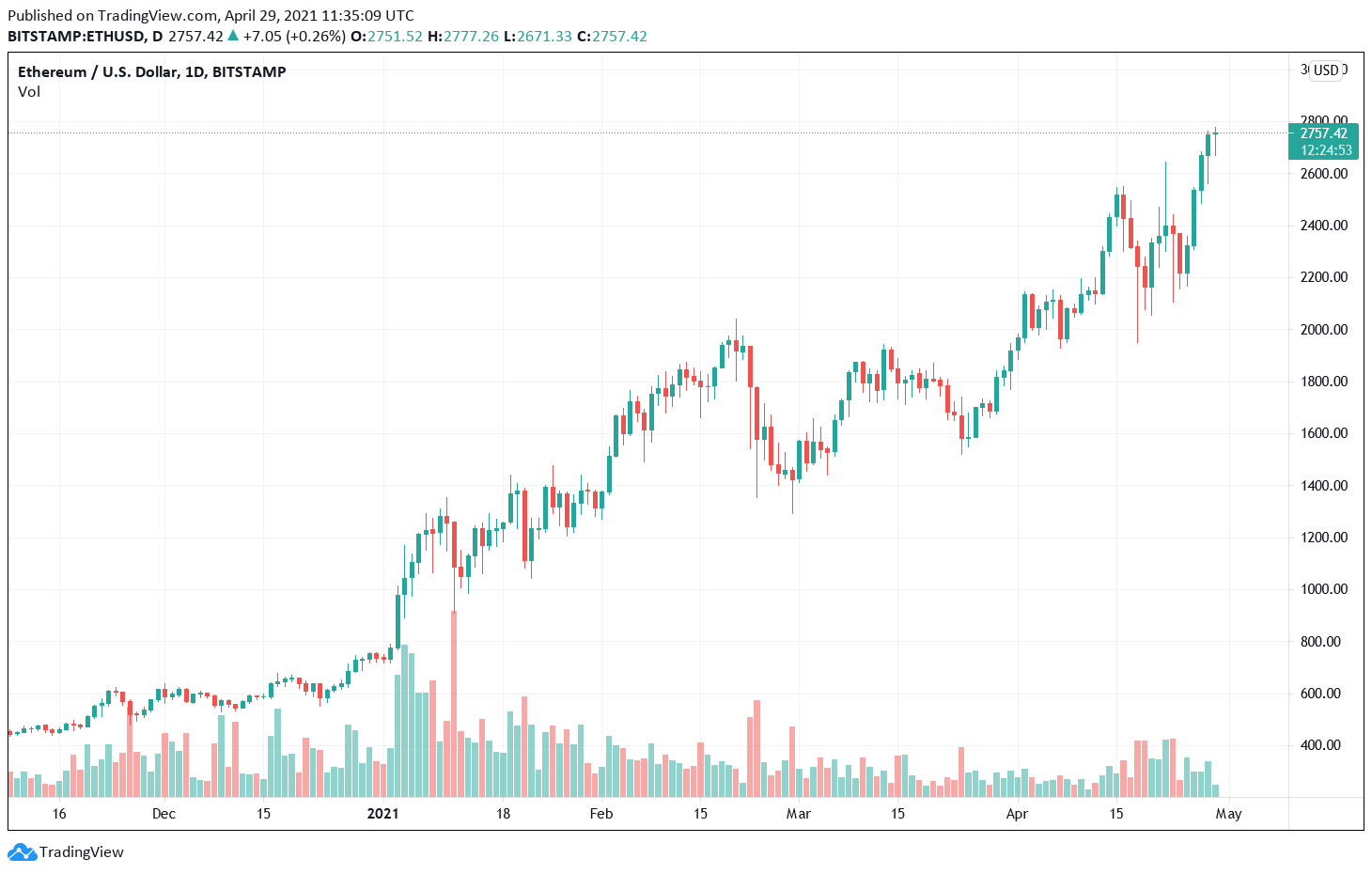 Related article | Ethereum Gains Momentum, Here's Here Chances of a Run To $3K
Featured image from Pixabay, Charts from Tradingview.com