Gold Bug vs. Bitcoin Bug: A Look at the Curious Relationship Between Peter and Spencer Schiff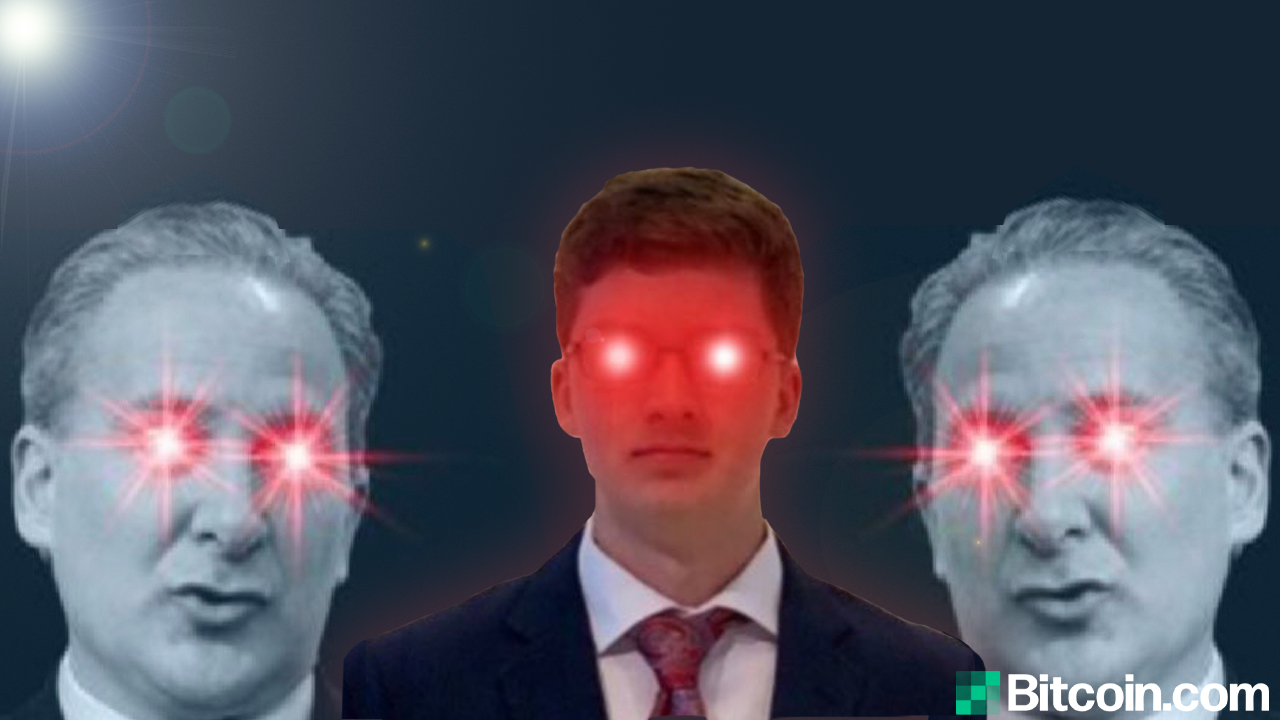 For years now the well known economist and gold bug Peter Schiff has continuously spoken out against bitcoin, as he claims precious metals are far superior. A great number of people have rebutted Schiff's statements about bitcoin but during the last year, the gold bug has had a different thorn on his side. In recent days, Schiff's nemesis on Twitter is his own son Spencer Schiff, a young entrepreneur who is "interested in finance, Austrian economics, libertarianism, [and] anarcho-capitalism."
Gold Bug vs. Bitcoin Bug
During the last year, Bitcoin.com News has reported on Peter Schiff on numerous occasions and one time our newsdesk did a report on his father Irwin Schiff. His now-deceased father Irwin was a very popular libertarian and tax resistance advocate who published a number of books.
In other instances this year, our newsdesk also covered Peter's son as well. Peter's son, Spencer Schiff, is an advocate for bitcoin (BTC) and he always has something to say when his father tweets about the leading crypto asset.
Better get yourself some sats.

— Spencer Schiff (@SpencerKSchiff) May 2, 2021
On Sunday morning (ET), when his Father tweeted a reply to a Zerohedge article about inflation, Spencer wrote: "Better get yourself some sats," in reply to his Dad's tweet.
When Peter wrote a tweet about the Federal Reserve and its Chair Jerome Powell not showing concern about inflation, Spencer replied with a laser eyes picture of his dad and said "join us."
However, when someone told Peter that he raised a smart kid the gold bug wrote:
He may be smart, but when it comes to Bitcoin, he's a complete fool.
Spencer Questions Listening to His Father's Advice About Bitcoin
A few days prior, Peter Schiff tweeted about his other favorite precious metal, silver, while also sharing an article about the subject. His son responded to the tweet, as he often does every few days, with a tweet about bitcoin coming after silver.
That would only be true in the case of direct exchanges. If gold was generally used as a medium of exchange and its industrial/ornamental uses disappeared, it could still be money.

— Spencer Schiff (@SpencerKSchiff) April 26, 2021
In another instance, a person was discussing with Spencer how he would likely have more bitcoin if he didn't listen to his father.
"I'm sure I would've had more sats had I stopped listening to his bitcoin advice earlier," Spencer said.
When his father shared an article that talked about the beginning or the end of the so-called bitcoin bear market, Spencer replied without reading the article. "I'll go out on a limb and bet you think it's the beginning," his son remarked.
They Agree on One Thing: Libertarianism
Let's just say, similar to Peter Schiff's constant tweets about how much he dislikes bitcoin, Spencer tweets back at his dad just as much.
"If [Microstrategy's] Michael Saylor is correct that the higher the bitcoin price rises the less risky it is to buy, then it must also be true that the lower the bitcoin price falls the riskier it is to own. That's an extremely dangerous characteristic for an asset to have during a bear market," Peter wrote on April 22 tagging the Microstrategy CEO.
Like clockwork, a few hours later, Spencer Schiff gave his father an amusing response, and oftentimes Spencer gets a lot more likes and retweets.
Spencer replied:
Do you need a reminder that bitcoin has appreciated 600% in the past year?
Peter Schiff and his son Spencer seem to have a solid and fun-loving relationship, and everything said is mostly an attack against BTC or gold. The gold bug has been against bitcoin for a very long time and it doesn't seem like he will be convinced any time soon, even by his own son.
Bitcoiners have formed an alliance with Spencer Schiff to a degree, as they know he is quick to respond to one of his father's anti-bitcoin tweets. Despite the disagreements about bitcoin, both Spencer and Peter are free-market advocates and both have followed Irwin's libertarian ideals.
What do you think about Peter and Spencer Schiff's bitcoin relationship? Let us know what you think about this subject in the comments section below.
Image Credits: Shutterstock, Pixabay, Wiki Commons, Twitter,